Ground Ambulance and Wheelchair Services
CareFlite is proud to provide exceptional 911, inter-facility, and wheelchair services. CareFlite's ground division offers the very best in out-of-hospital patient care utilizing advanced and cutting-edge protocols. Our care providers set the standard for excellence in North Texas, providing services from basic life support to critical care. 911 services are offered in Kaufman County, City of Seagoville and Hill County. CareFlite acts as a backup to the City of Cleburne and City of Burleson's 911 service. Inter-facility ground services are offered in all or portions of Collin, Dallas, Denton, Ellis, Erath, Johnson, Kaufman, Parker, Rockwall, and Tarrant Counties (where not prohibited by law.)
Wheelchair service is offered to hospitals and medical facilities in Dallas, Collin, and Tarrant Counties.
Collin County
Denton County
Tarrant County

Azle
Mansfield
Arlington
Fort Worth
Bedford
Grapevine

Dallas County

Dallas
Richardson
Duncanville

Parker County
Erath County
Kaufman County

Seagoville
Mabank
Kemp
Kaufman
Forney
Terrell

Ellis County
Johnson County
Hill County

Hubbard
Itasca
Hillsboro
Whitney
Covington

Rockwall County
Each Ambulance crew includes: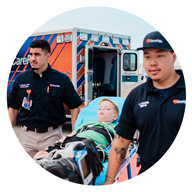 Emergency Medical Technicians (EMTs)
CareFlite EMTs have the knowledge and skills necessary to stabilize and safely transport patients ranging from non-emergency and routine medical transports to life-threatening emergencies.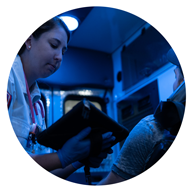 Paramedics
CareFlite Paramedics are health professionals whose primary focus is to provide advanced emergency medical care for critical and emergent patients who access the emergency medical system. These individuals possess the complex knowledge and skills necessary for patient care and transportation.
2 EMTs on a ground ambulance make it Basic Life Support (BLS) capable. The main components of BLS are initial patient assessment, vital signs, basic airway management, oxygen therapy, chest compression, first aid, childbirth, and utilization of an AED. All CareFlite EMTs are trained in IM epinephrine administration (for use during anaphylaxis), and CareFlite 911 EMTs are trained to initiate IV therapy under the supervision of a paramedic.
1 Paramedic and 1 EMT or 2 Paramedics on a truck make it Advanced Life Support (ALS) capable. The main components of ALS include all BLS care in addition to cardiac monitoring and use of a defibrillator, administering medications, starting IVs, advanced airway interventions, and management of mechanical ventilators.
Critical Care: Our Critical Care Paramedics (CCP) undergo an advanced internal training and credentialing process. They are also certified as Critical Care Paramedics by the International Board of Specialty Certifications. CCPs are capable of caring for patients utilizing specialty care devices such as intra-aortic balloon pumps, external ventricular drains, Impell devices, and intravenous pacing devices. In addition, our CCPs operate under advanced practice guidelines and carry over 50 medications, perform several advanced procedures, and can monitor all invasive lines such a pulmonary artery catheter. All CCPs are also Field Training Officers and providing training and clinical oversite over primary paramedics within our system.
Wheelchair Transport Rates: $65 base plus $2 per mile.
All CareFlite Transport vehicles, including Wheelchair Accessible Vehicles, are available in the counties of Dallas, Tarrant, and Collin upon request by hospitals or other medical facilities.
Note: CareFlite's Membership Program covers all CareFlite air and ground ambulance transports. It does not cover Wheelchair Transports.
CareFlite's Contact Information:
Headquarters Address:
3110 S. Great SW Parkway, Grand Prairie, Texas 75052
Telephone Numbers:
Office (972) 339-4200 or (972) 339-4236
FAX: (972) 602-7182 or (972) 988-3144
Email: Webmaster@careflite.org
Membership: (877) 339-2273
Wheelchair Dispatch: (800) 442-6260
CareFlite has a zero tolerance policy for driving under the influence of alcohol or drugs.