Rapid Response. Extraordinary Care.
CareFlite's flagship service line is helicopter transport. Established in 1979 with one helicopter shared between two hospitals, CareFlite now operates seven helicopter bases at Texas Health Fort Worth Hospital, Methodist Dallas Medical Center, North Texas Medical Center in Gainesville, McKinney National Airport, Whitney, Burnet Municipal Airport, and the Granbury Regional Airport. More than 110,000 patients have been transported by CareFlite since 1979. CareFlite partners with its sponsor healthcare systems to complete hospital specialty team flights, including ECMO, high-risk obstetrical, and neonatal transports. CareFlite's advanced capabilities include whole blood and blood product administration, intra-aortic balloon pump (IABP), Impella, and ultrasound diagnostic capability. CareFlite's helicopter fleet includes two Bell 429s, five Bell 407GXs, and one Bell 407GXi.
CareFlite was the first service in North Central Texas that operates under instrument flight rules during inclement weather allowing CareFlite to transport patients in adverse weather. CareFlite has ten proprietary instrument approaches to hospital helipads throughout the Dallas Fort Worth Metroplex.
Air medical personnel are
trained in:
Trauma
Cardiac
Neonatal
Obstetrics
Advanced Cardiac Live Support (ACLS)
Advanced Trauma Life Support (ATLS) or Transport Professional Advanced Trauma Course (TPATC)
Pediatric Advanced Life Support (PALS)
Neonatal Resuscitation Provider (NRP)
Base Locations
Fort Worth

Dallas

Granbury

McKinney

Gainesville

Whitney

Burnet
Each helicopter crew includes:
Rotor-Wing Pilot
Helicopter Air Ambulance is one of the most demanding jobs in all of aviation. Pilots must be prepared to respond at a moment's notice and are asked to manage a complex aircraft in all types of conditions, environments, and at all times, day or night. For this reason, CareFlite maintains the highest standards for pilot applicants, requiring a minimum of 2,500 hours prior flight experience and ATP certification.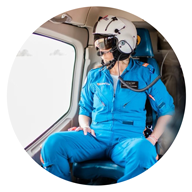 Certified Flight Registered Nurse (CFRN)
Our flight nurses come to us with at least three years of critical care experience. They have worked in an emergency room and/or intensive care unit, developing and honing their critical care skills. They are familiar with invasive monitoring equipment, managing intravenous infusions, and supervising ventilated patients. Their background makes them a great complement to our flight paramedics.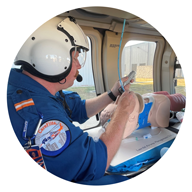 Flight Paramedic - Certified (FP-C)
Our flight paramedics come to us with at least three years of experience in a busy 911 system. They have functioned as the primary care provider for a progressive emergency medical service. They are familiar with managing patients autonomously and performing advanced skills like intubation and needle decompression. Their knowledge and comfort in the pre-hospital environment make them a great complement to our flight nurses.
CareFlite maintenance technicians are responsible for ensuring aircraft are in safe working condition and can respond anytime they are called upon. Air ambulances operate 24/7, requiring them to be mission ready at a moment's notice. As such, their maintenance demands are also a 24/7 task. When it comes to air medical transport, there is nothing more important than the safety of those on board. The Aviation Maintenance Technicians (AMTs) must comply with the strict inspection criteria and regulatory requirements, meaning technicians must possess highly specialized technical expertise and have prior experience maintaining complex aircraft. They work daily to keep all aircraft in a state of airworthiness, meaning it is safe to transport crew members, passengers, and anyone in its service area. It's also up to them to minimize downtime so our crews can continue to treat and serve those in need. All CareFlite Aviation Maintenance Technicians meet A&P certification requirements and attend OEM aircraft specific training.